Plagiarist.com Articles
Lee Upton's Approximate Darling
by Jough Dempsey
4 October 2002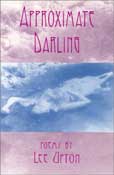 Approximate Darling
by Lee Upton
88 pages | PB $14.95 | University of Georgia Press | 1996
ISBN: 0820318116 | Order from Amazon.com
Approximate Darling by Lee Upton is an inexplicable collection - there isn't a good poem in the book, but nearly every poem has something good in it. The result is an uneven mess that shows a lot of potential, but never delivers.
Admittedly, I am not the audience for this book. The poems are written by, for, and are generally about women. I am not a woman. I shouldn't need to be. I appreciate a great deal of poetry by women - but when I read Elizabeth Bishop, Emily Dickinson, or Sylvia Plath, I'm not excluded as I seem to be with Upton's work.
The only reason that I mention gender at all (besides the fact that the book is filled with poems that are very much about gender) is that I've read a few reviews of this book and out of the six reviews that I read (four by women and two by men) the four women all wrote something to the effect that "You have to be a woman to appreciate this book." Neither of the men mentioned needing to be a woman. They just noted that the poems were shoddily constructed, which they are.
I can't really say if I would appreciate this poems any better were I a woman. I doubt it. There are so many obvious missteps and poor choices to render the flaws of the volume apparent to anyone who's open to see them. If I agreed with Upton's politics, perhaps I'd be willing to forgive a few bad metaphors. It's not that other poets, even fine poets, write flawlessly - it's just that most don't seem as aggressively intent on making odd choices.
Take the best poem in the book, "The Fish House," for example. The poem starts off strongly, as many of the poems in Approximate Darling do, but then moves in a direction that attempts surrealism but is simply muddled.

The Fish House

A smell of ammonia or aluminum
and you're here.
You've entered at the side door.

The place seems beaten with a mallet.
A cathedral fish
with weeping gills loiters

among bright things stuck in ice.
And the young person you had been
blinks at a table.

So far so good. The first three stanzas bring us into the fish house, immediately invoking a sensory response with the smell of ammonia or aluminum (aren't they very different smells, though?) and I've entered the poem. I'm with the speaker. "The place seems beaten with a mallet" is just about perfect. I'm not sure if the fish would actually "loiter" (I imagine a fish smoking a cigarette, leaning against a lamppost) but I'm willing to accept that conceit.
But the final four stanzas rather abruptly shift to pointless surrealism that doesn't serve the promise of the opening:

What have we learned since we sat
in just that position, leaning forward?
Now we know enough to leave?

Just saying so can't make that woman
stand from the table,
sick of betraying herself or anyone.

Tell her what we can.
The past is a fish
that cannot swim.

It is mounted on a wall
above a woman's head.
She does not have to admire it.

Even the language grows slacker as the poem wears on. The child the speaker used to be is sitting at a table in the fish house. Ultimately the poem is about memory - how we cannot change that which used to be. Even the specificity of the beginning of the poem falters to the vagary of "It is mounted on a wall / above a woman's head [my emphasis]" Not any particular woman, mind you. Just "a" woman's head.
The last line is declarative, yet doesn't really say anything.
So it goes with most of the poems, except some don't have even those first three stanzas going for them.
I was disappointed to learn that this is Upton's third book of poetry. I was going to write something to the effect of "When Upton's sensibilities mature a bit, she's going to be a poet to look out for." but since she's already written at least three collections of poetry (four as of this review) I suppose I may not hold out too much hope.
It's frustrating to read a book that contains so many good lines and not a single good poem. As I read on, I kept hoping that each consecutive poem would be the one, that I'd finally turn to a poem that was fully realized, fully thought-out and didn't disappoint. I reached the end of the book without fulfilling that hope.
I should note that I really like the title, Approximate Darling (nearly a perfect title for this book - "Approximately Poetry" being my first choice - because the images and speakers are vague and never really get down to particulars), and the cover is really pretty (although disappointment ensued once again when I noticed that the title of the cover photograph is "Ophelia" - another Shakespeare reference for the sake of referencing the Bard, as is the bizarre poem "Gertrude To Hamlet" that may as well have been called "Some Vague Person to Some Other Non-Descript Person" for all that it has to do with the Shakespeare play).
Maybe I'd have to be a woman to appreciate this book, although I also hope that women aren't as inexorably drawn to doggerel as those other reviewers would have me believe. Surely women are more capable of appreciating good poetry than this!